I really don't like it when I have to take down the Christmas decorations. It is so pretty in the house during the holidays. It takes me a solid week to get all 15 of my bins spread out around the entire house. And it takes a day to put it all away. That doesn't seem right somehow.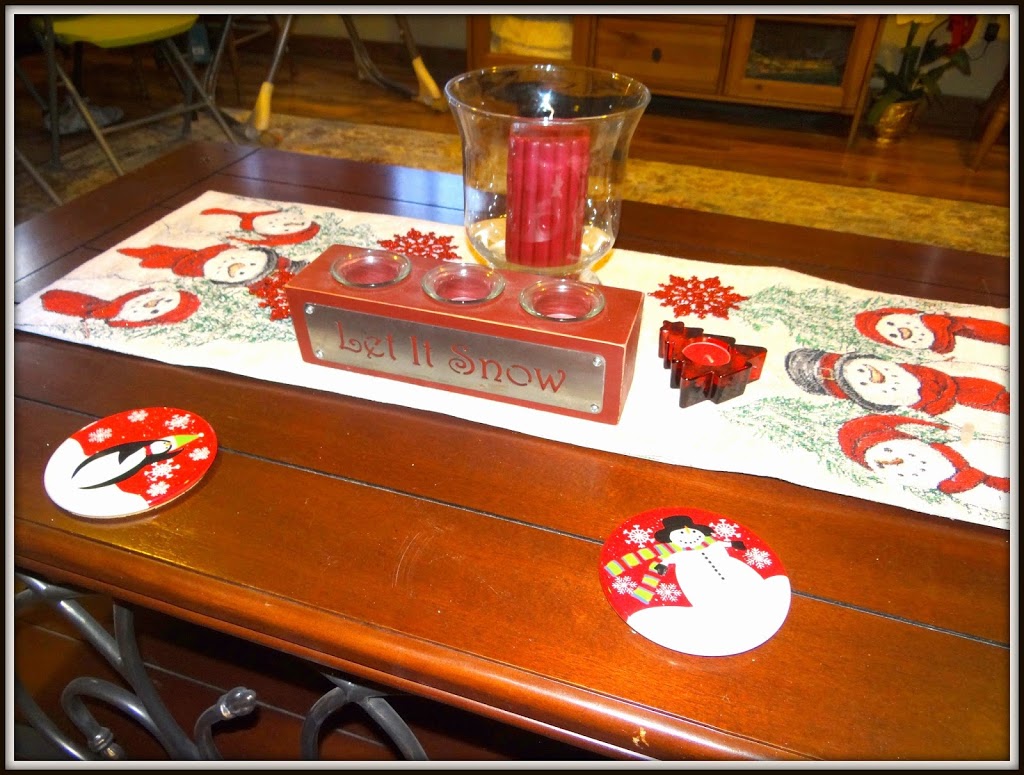 The coffee table in the den is cute little snowmen.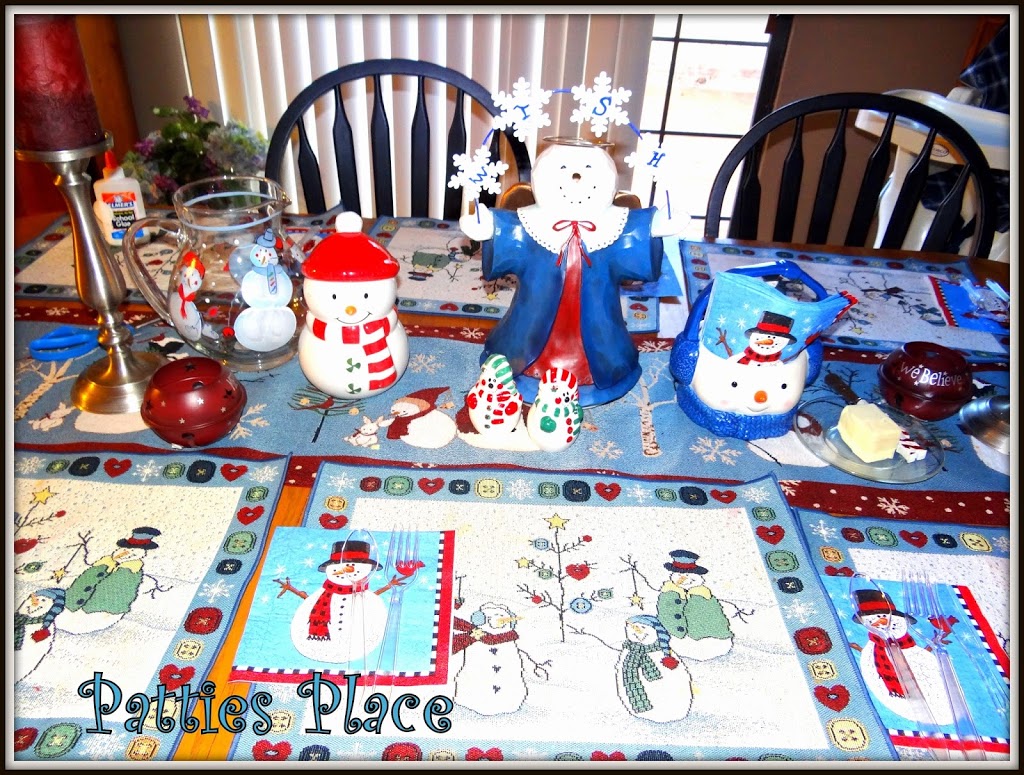 My kitchen table is all snowmen decor too. They make me giggle.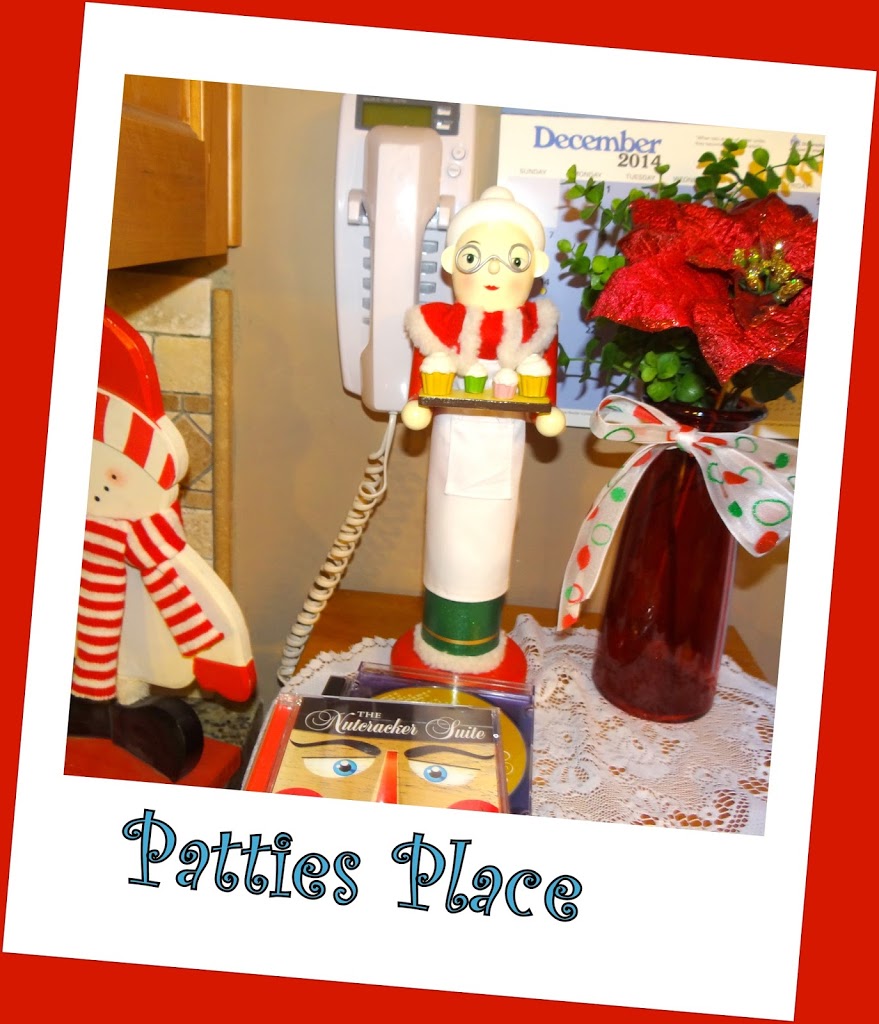 My kitchen is red and white for the holidays. Mrs. Claus and her cupcakes and the Nutcracker music playing just make me smile.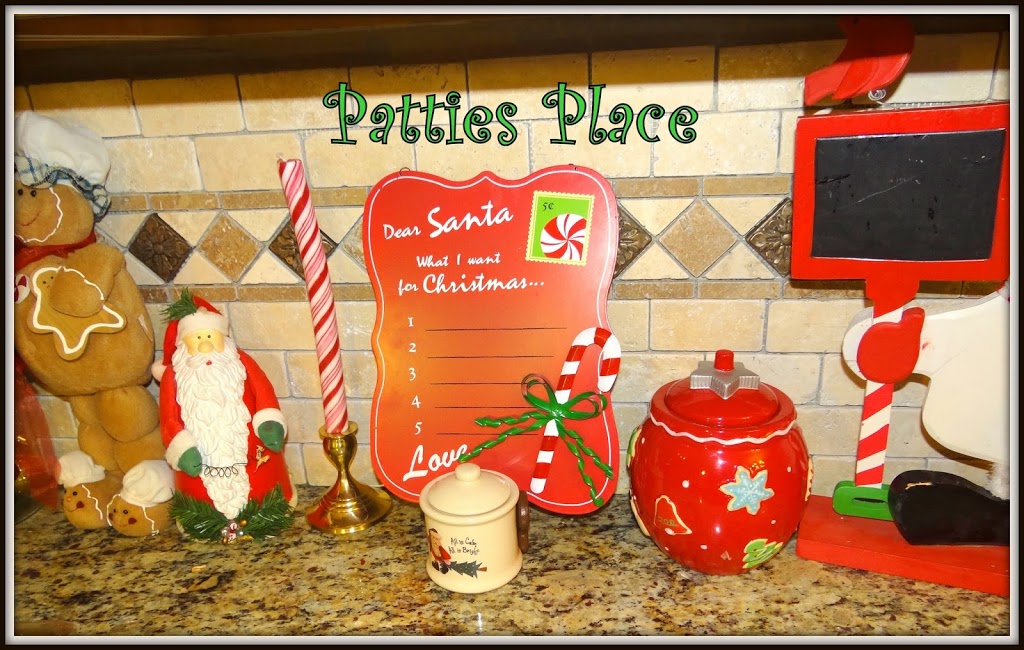 I hated putting away all this darlingness.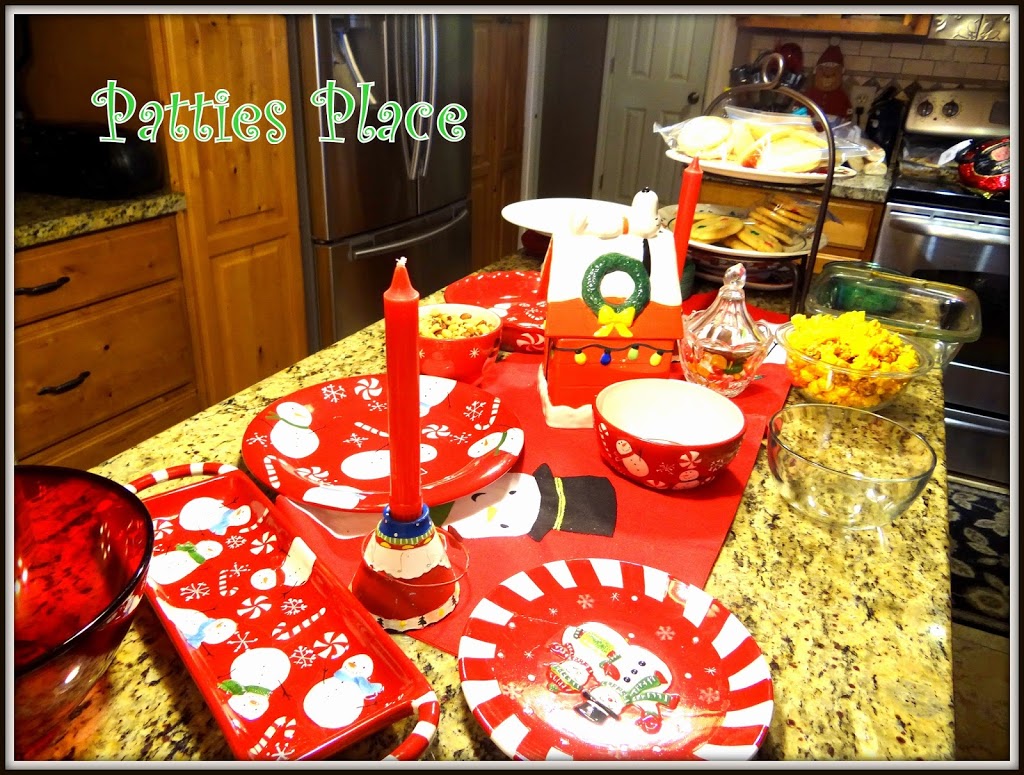 Dessert buffet. I forgot to take pictures after we had all the brownies, cookies, cream puffs and cupcakes on these platters. bad me.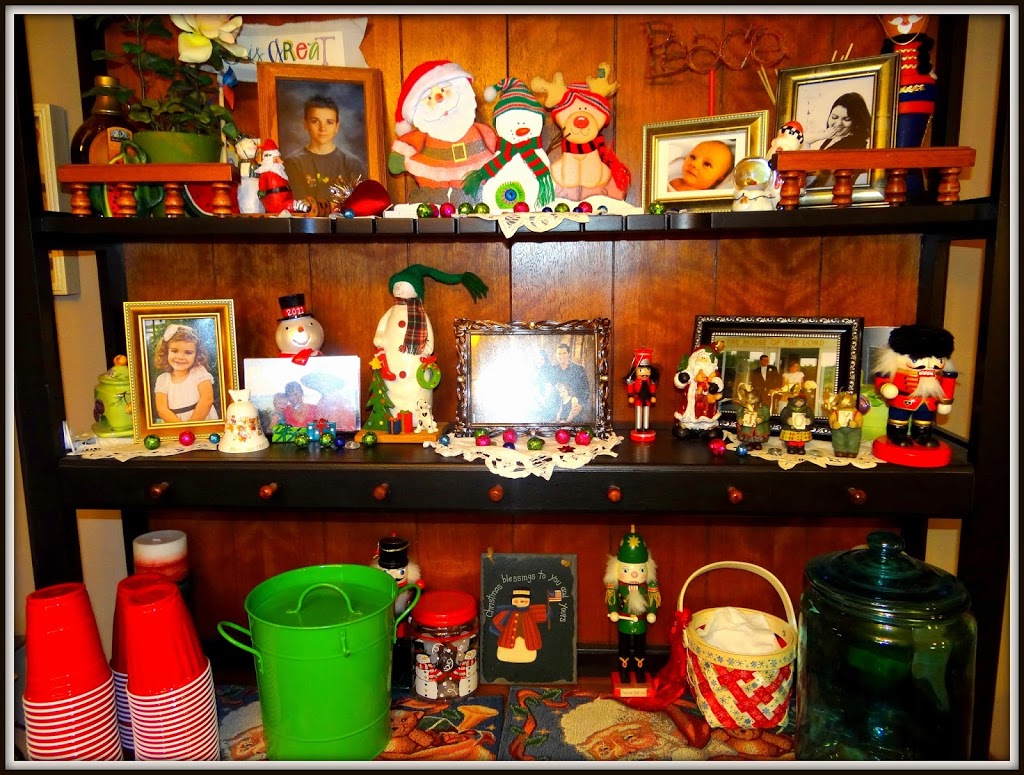 Drink station at the holiday parties. We have sodas and lemonade sparkling cider and all kinds of yummy things.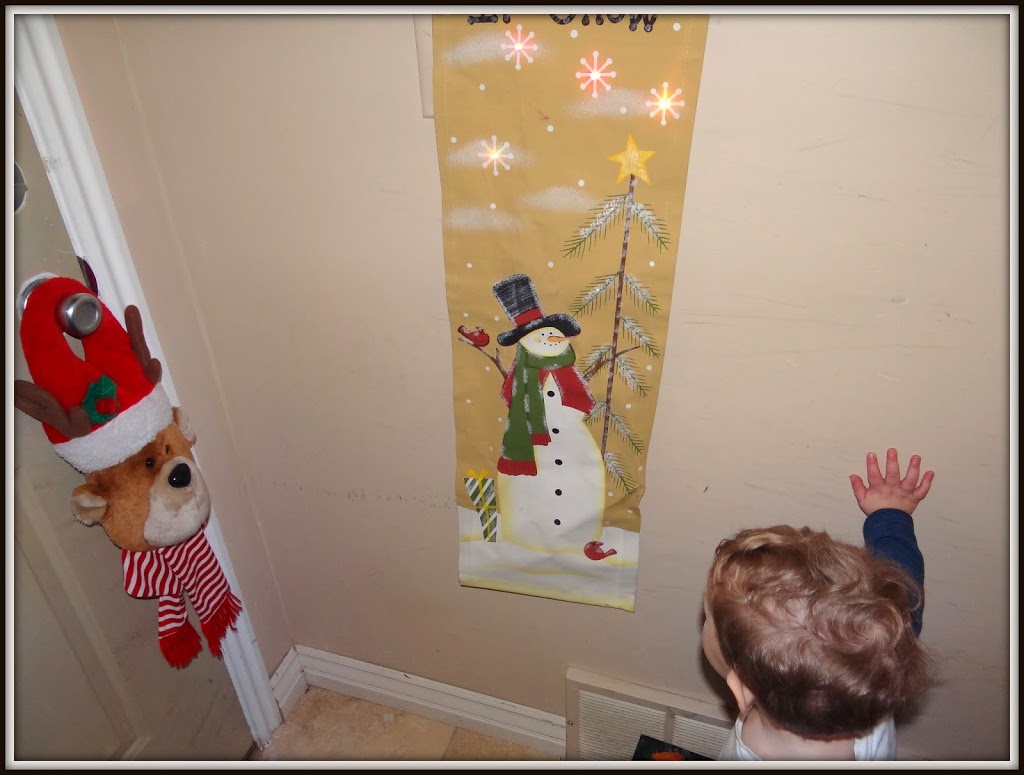 My light up snowman wall hanging I keep up all January. My little grandson loves looking at it.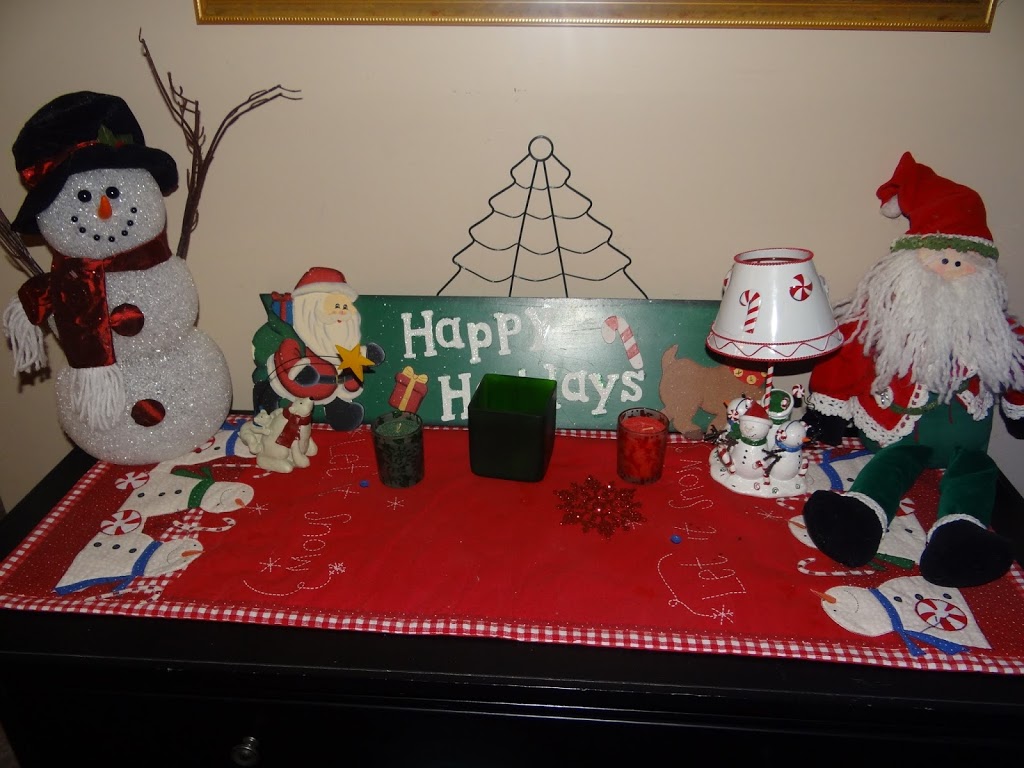 I love this little snowman above on the left. He changes colors from green, to red, to blue. It's fun to watch him when it is dark in the entry hall. He gets to stay all January.
I luckily have a few bins full of January decor. Otherwise the place would look really depressing and sparse. I have lots of snowflakes, snowmen and some blue and white glittery ornaments I save to put in glass jars for January. And I have my light up snowman from Christmas I leave up all month long too. He is cute.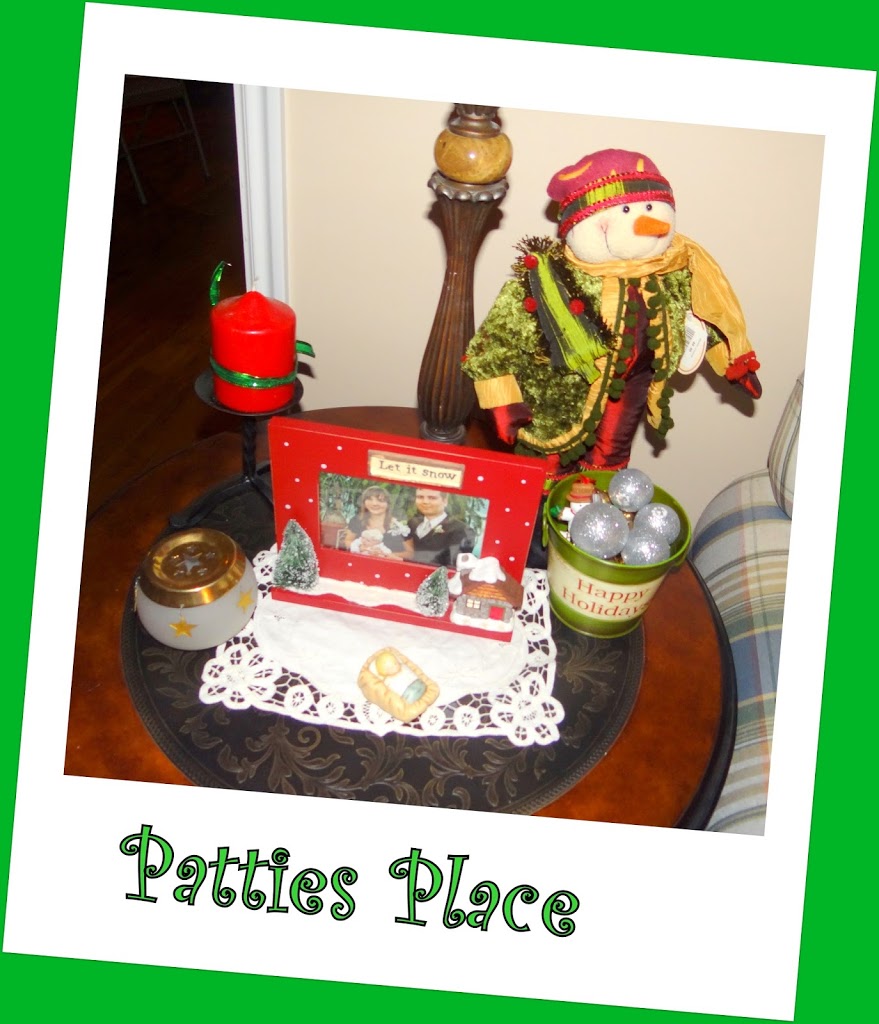 I have pictures in cute holiday frames I only put out for one month a year. I hate putting this one away, it is so cute of my oldest son and his little family.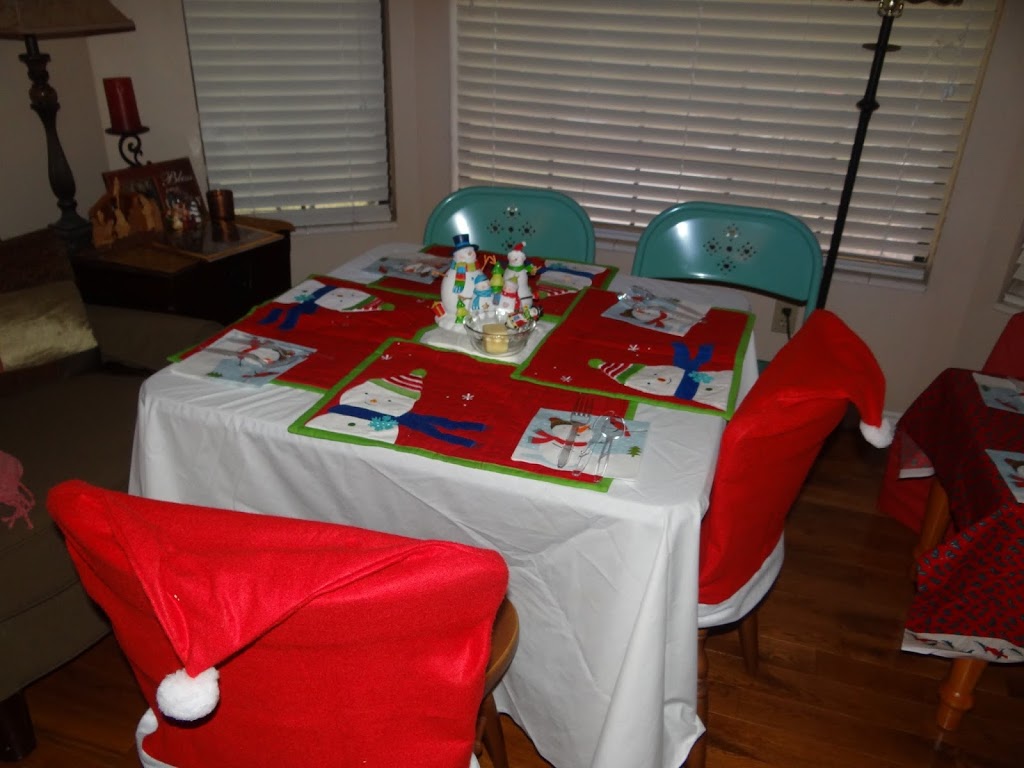 Some more guest tables I had set up. I had cute Santa chairbacks for this card table. The little kids all wanted to sit here in the Santa chairs, even though I had 2 little kiddie tables! lol.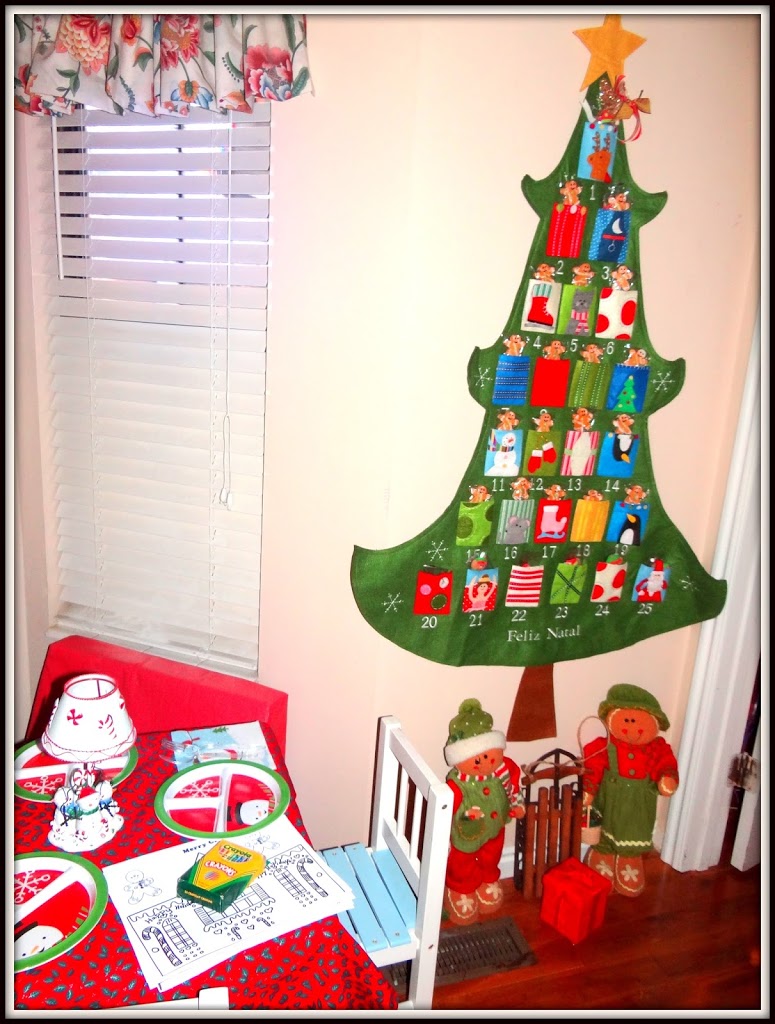 Advent Tree filled with gingerbread man lollypops for each day of the month leading up to Christmas.
I set up lots of tables when I had a family dinner party recently. This was the little kiddie table. I had two of them. I brought some projects and crayons from my classroom so the kids could color gingerbread houses.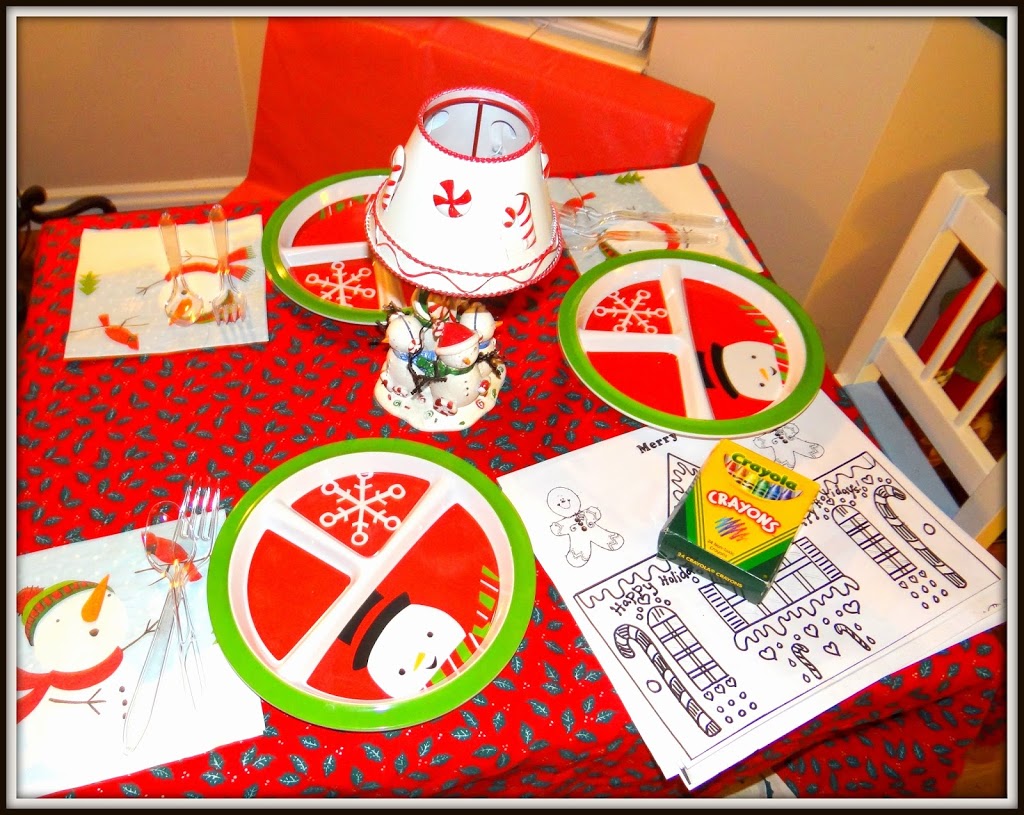 Here's the gingerbread houses and the cute, kid's table.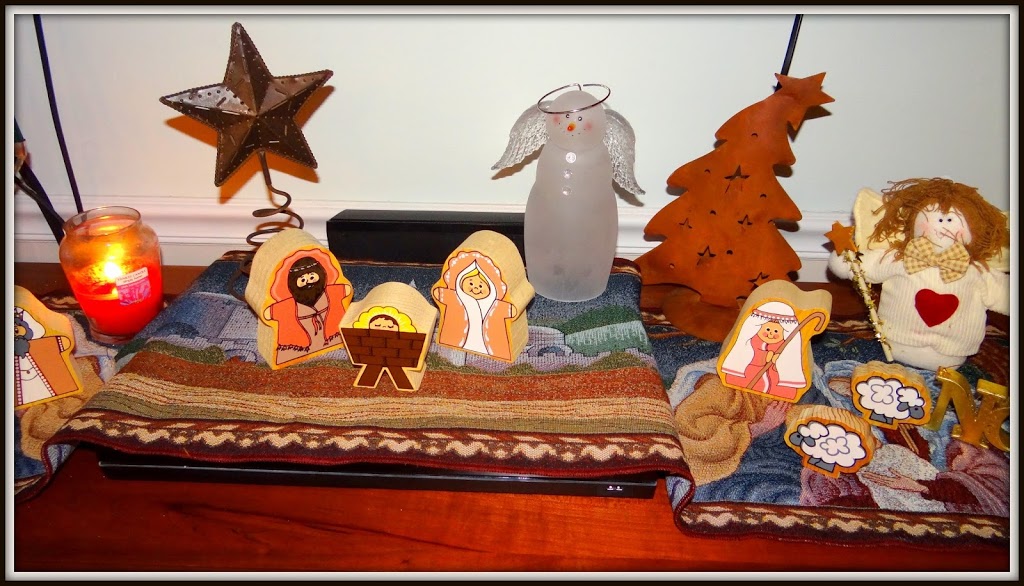 The only nativity I put out anymore is the unbreakable one. If I put out any of my others, somebody loses a head or a leg. This year it was a wise man. Too bad I wasn't the wise woman who left him back in one of the Christmas bins.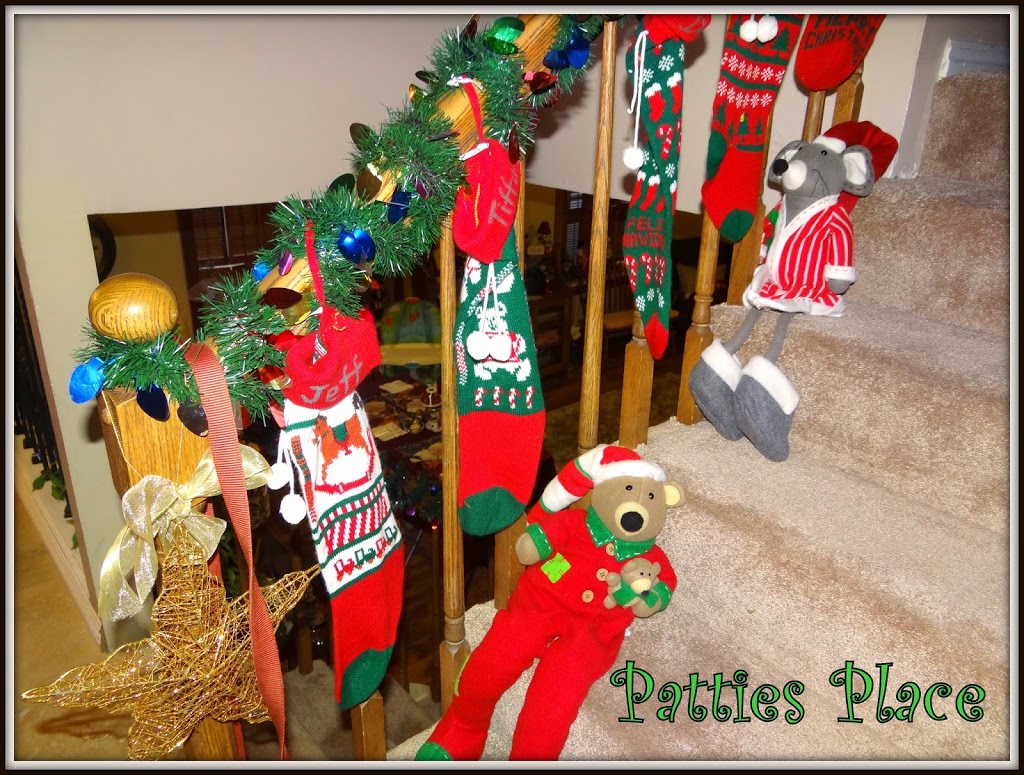 Stairs going up to my bedroom. I will miss these cute, long-legged mice smiling at me on the way up to bed.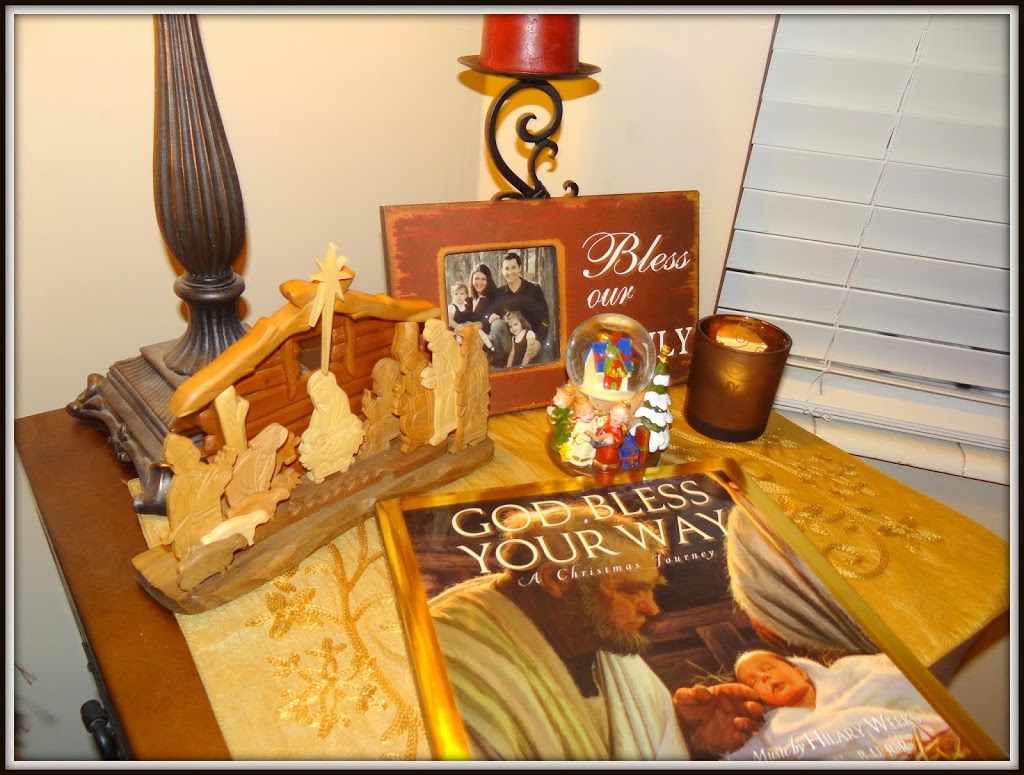 It is so easy for me to forget the reason for the season. Here is another unbreakable nativity my son Devin brought me back from Armenia, where he served a mission.
I have tried hosting parties for family and friends always hoping that everybody has a good time; but I've learned that some people won't have a good time no matter what you do, and that isn't your fault. You just try to enjoy yourself and hope that everybody else does the same. But it is kind of out of your control.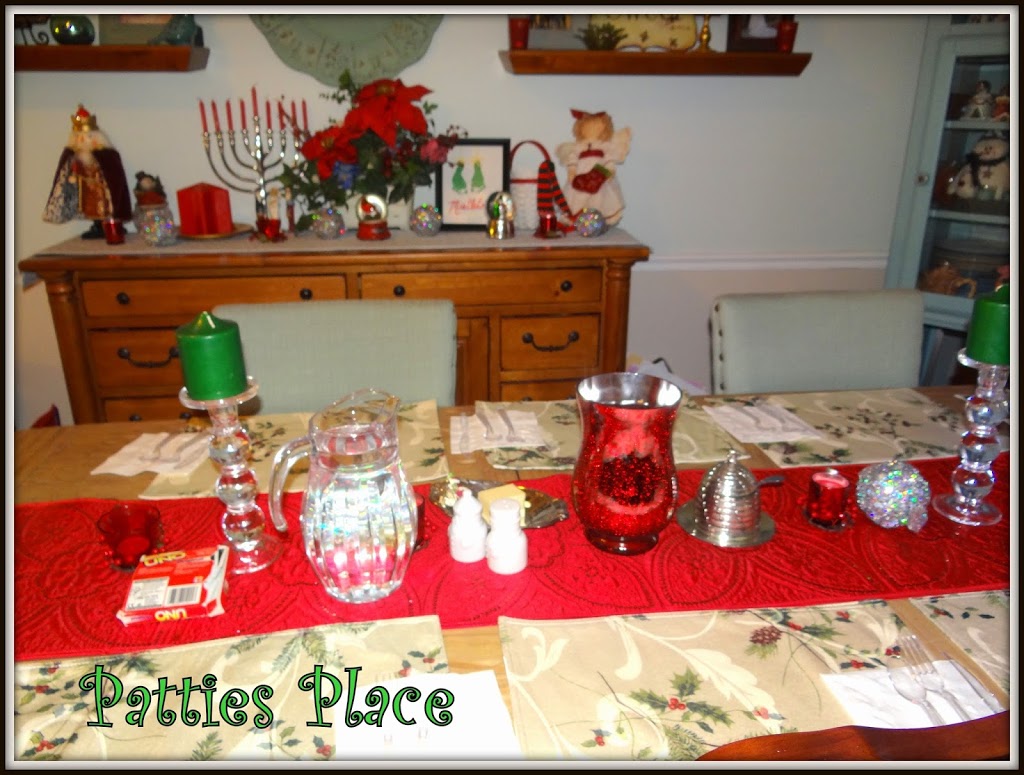 Another one of the adult tables set up for dinner. I loved the glittery runner and holly berry placemats and simple Christmas colors and decor here.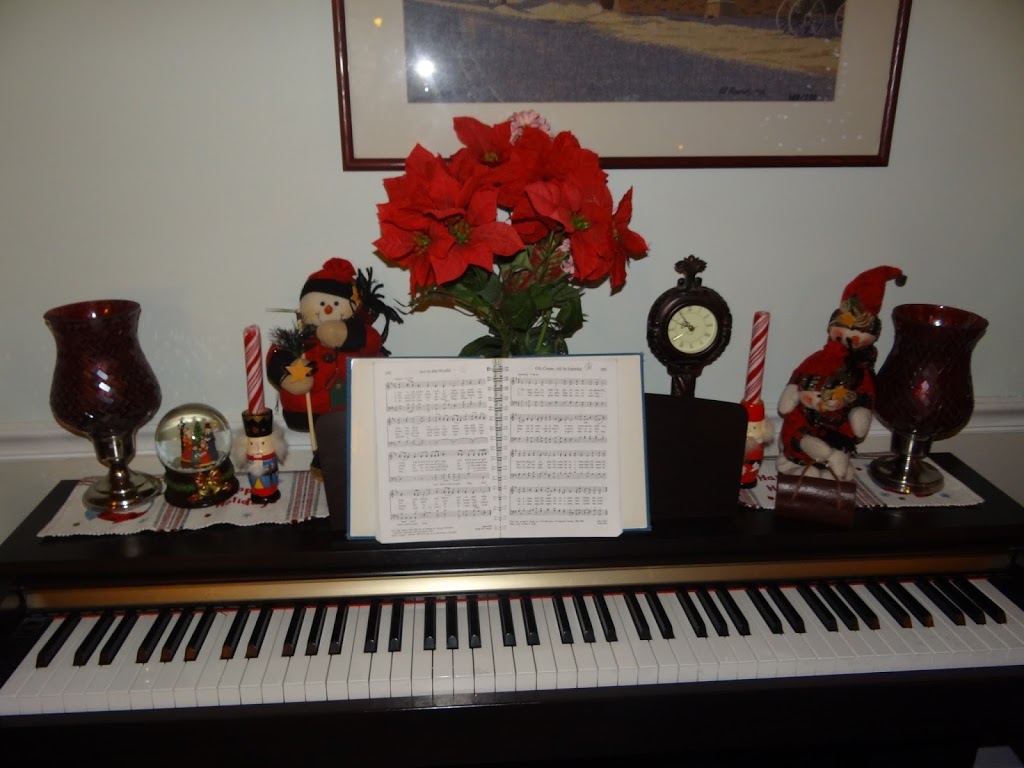 And I have good memories of My daughter playing Christmas carols and us all singing along with her.
I have learned not to have huge and high expectations for Christmas gifts and all the drama it can cause. If people like what I gave them good, but if not, I just leave the receipt at the bottom of the box and they can return it and buy something else. And I don't mind at all. I used to do that when my mom bought me clothes I didn't like. And it was fun to go shopping after Christmas was over.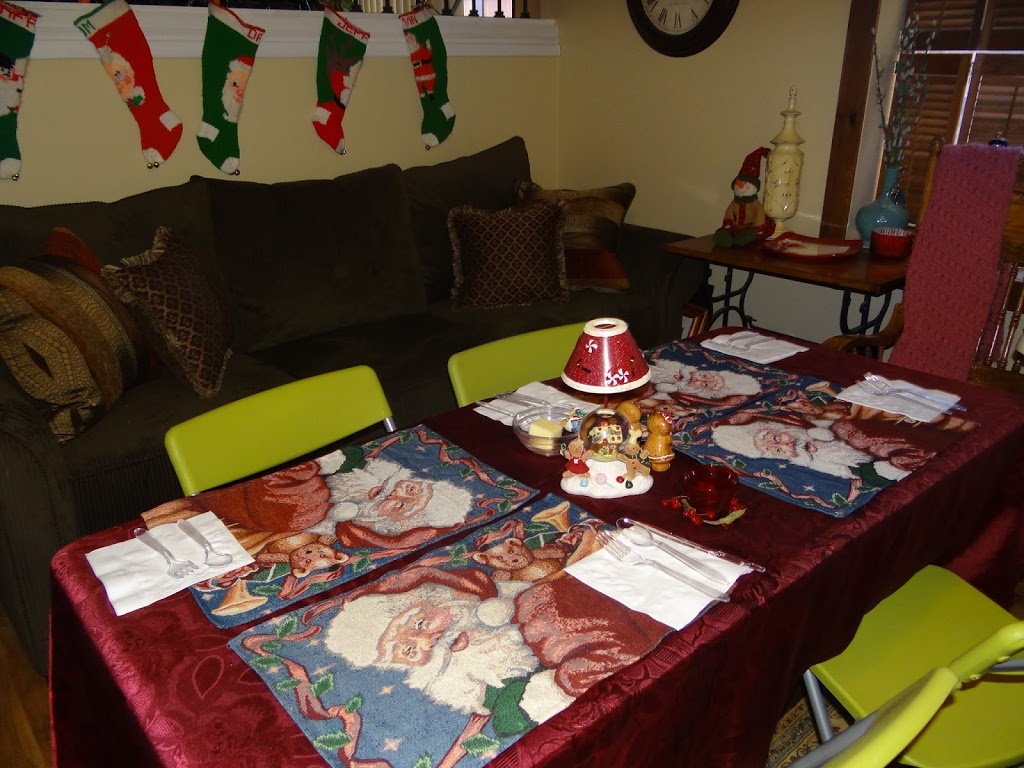 Another dinner party table set up. This one has Santa placemats and gingerbread-men salt shakers and candleburner.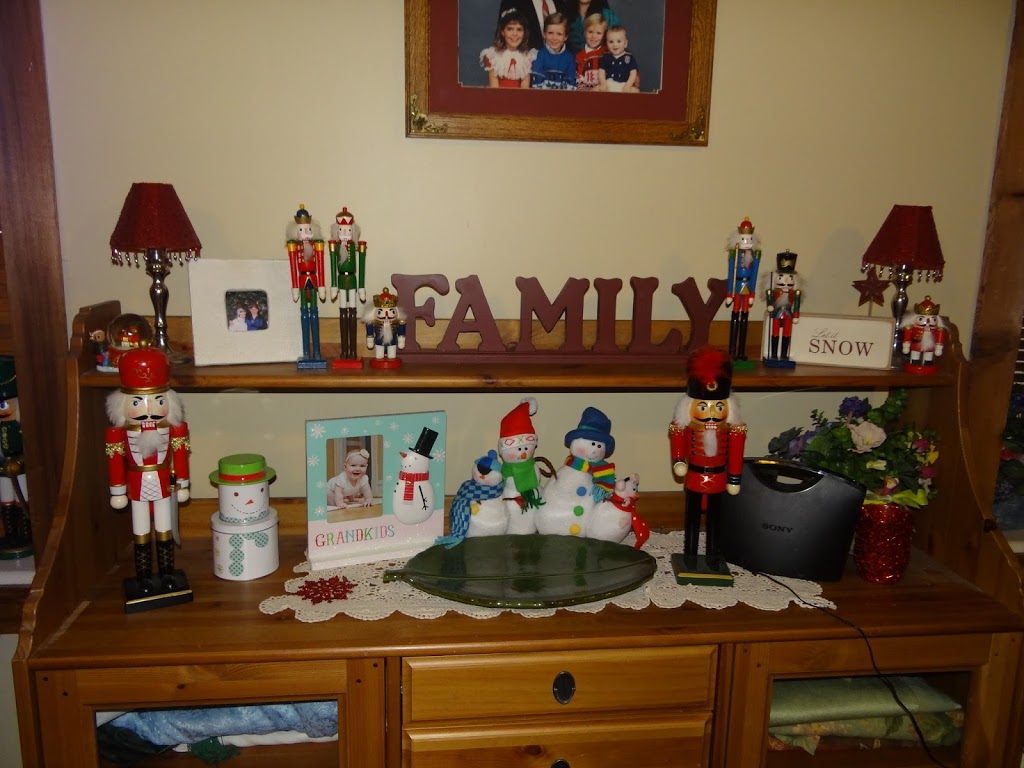 Some of these snowmen decorations I will leave up through January. I have 2 light blue bins to house my January decorations. I got them out today and started the taking down Christmas process.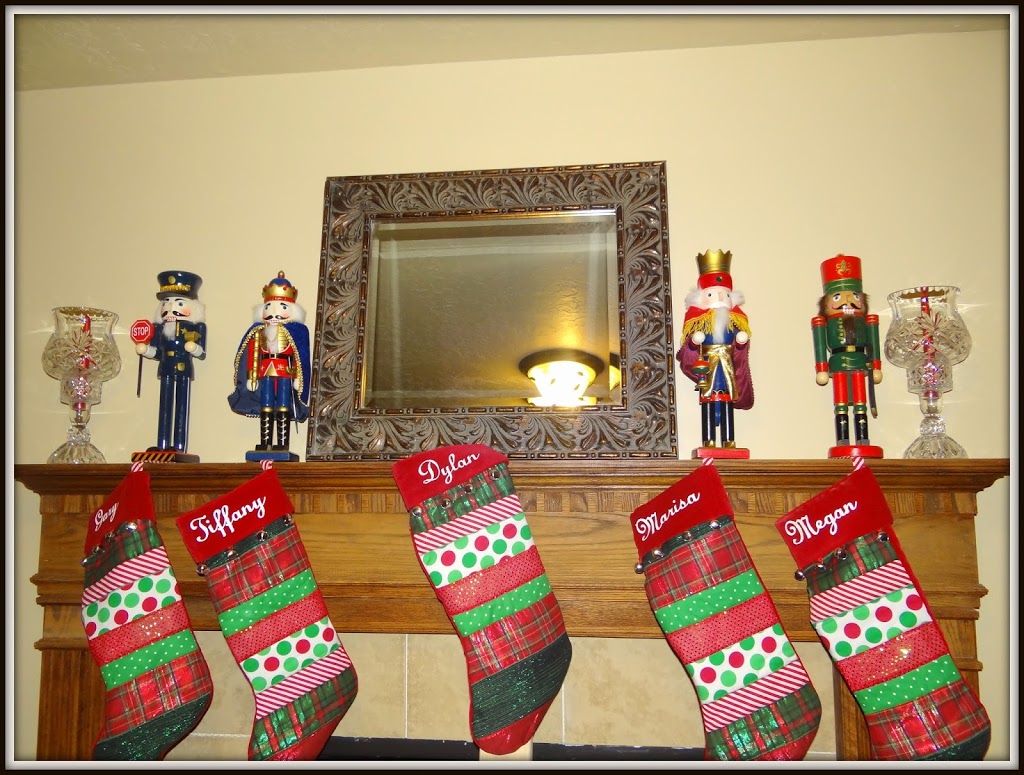 Stockings hung on the mantle. I will miss these pretty ones my daughter made herself for her family. They are staying with us this month waiting for their house to finish getting built. It has been a wonderful time to be able to see and play with my grandkiddos daily.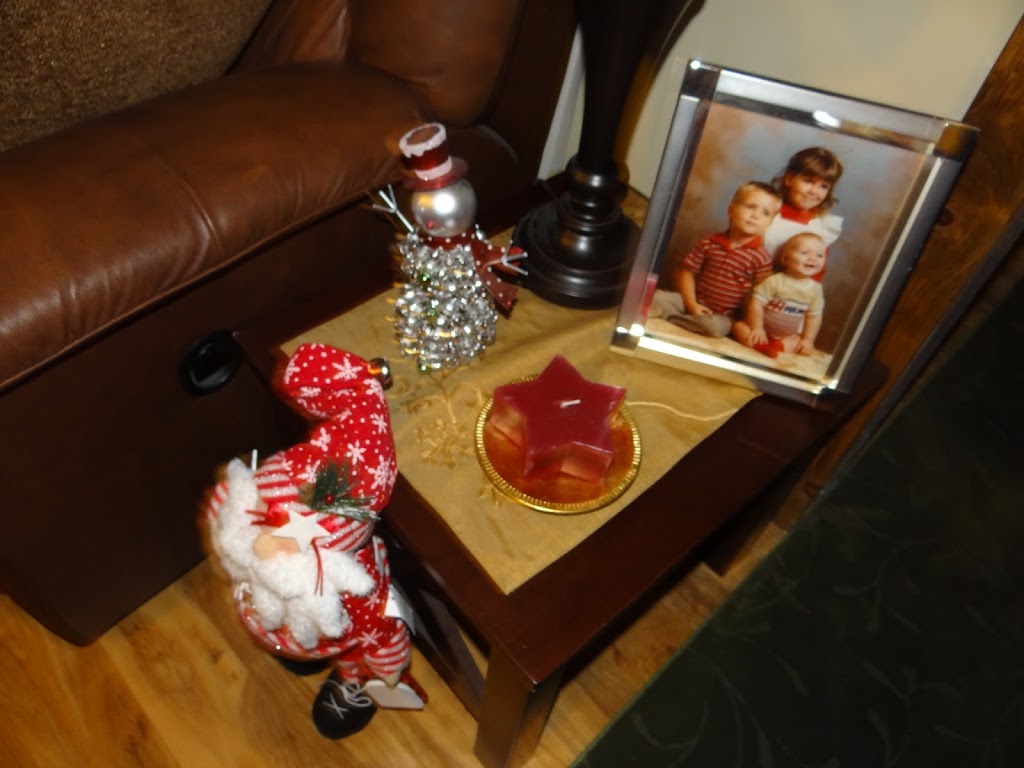 All these end tables will go back to being just blah looking after taking down Christmas is done. Sniff.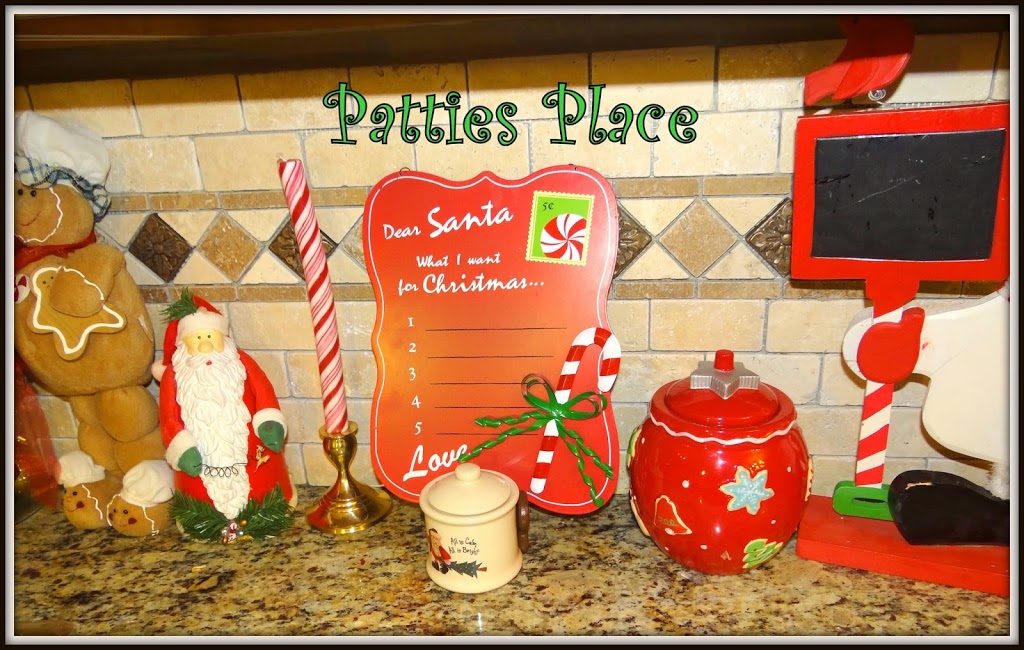 My cute kitchen counter. I will miss the bright and happy Santa stuff.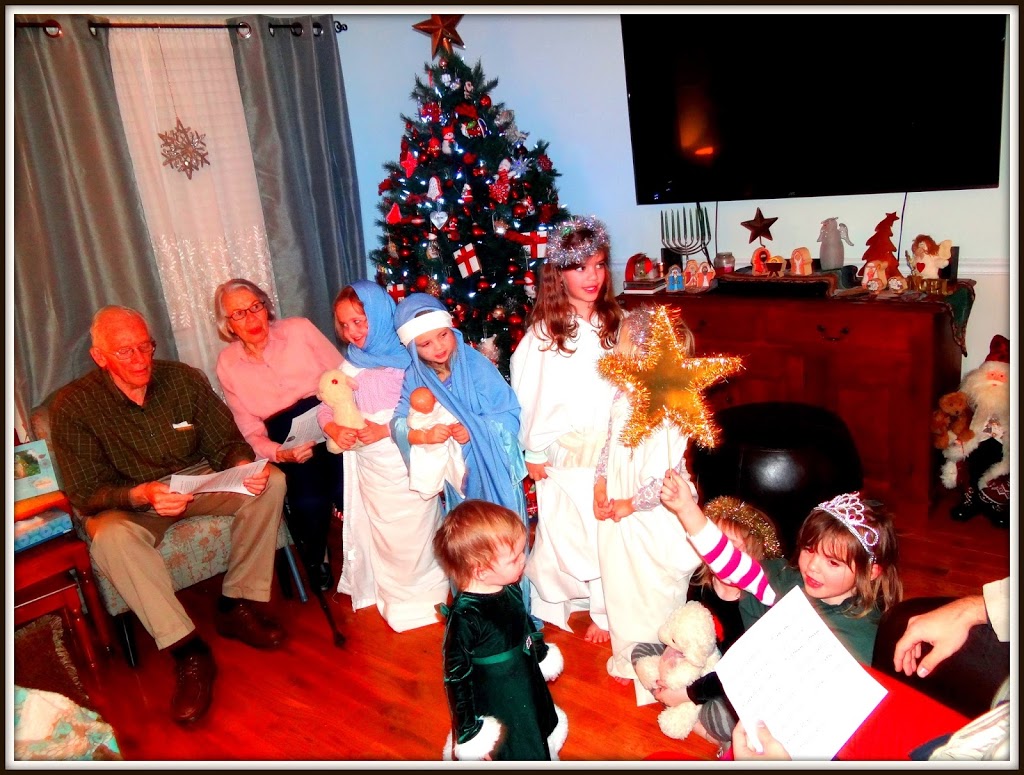 And I will think back fondly on having The extended family doing the nativity and Christmas caroling together with them.
I have tried to appreciate the little things this year. I have loved seeing little messages my 7 year old granddaughter leaves on my office whiteboard every time she is in there. It has gotten to be such a funny interchange. I look forward to seeing any new thing she has written. Sometimes they are generic funny thoughts. Sometimes they are messages to grandpa. Sometimes they are notices of things coming up in her classroom, like the time she was worried about a fire drill and the screeching alarm that made her nervous. (snicker) And sometimes they are all for me. Lucky me. I love her so. This particular one her little sister wrote to her, sharing the love. So sweet.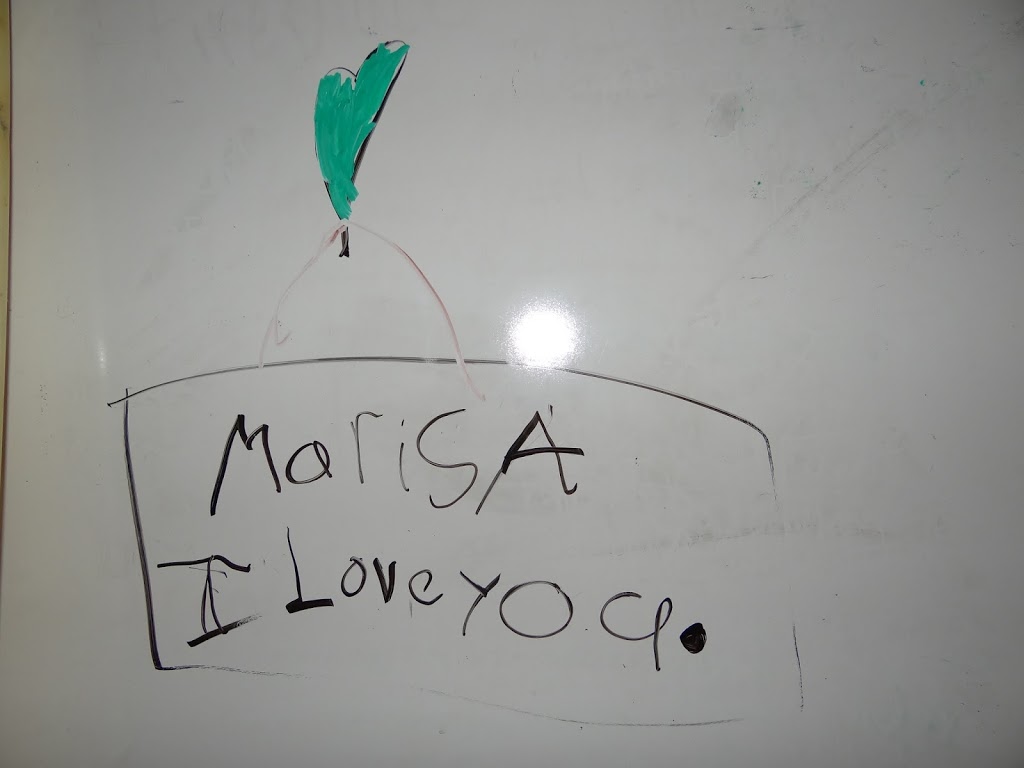 So even though Taking Down Christmas makes me kind of sad, I have little gems like this to brighten up my day. And the little things I've seen and experienced remind me of how good it is to celebrate the holidays. I know if I only lean in a little more often, I will see the little gems that are happening all around me. Things that make me smile like these things do.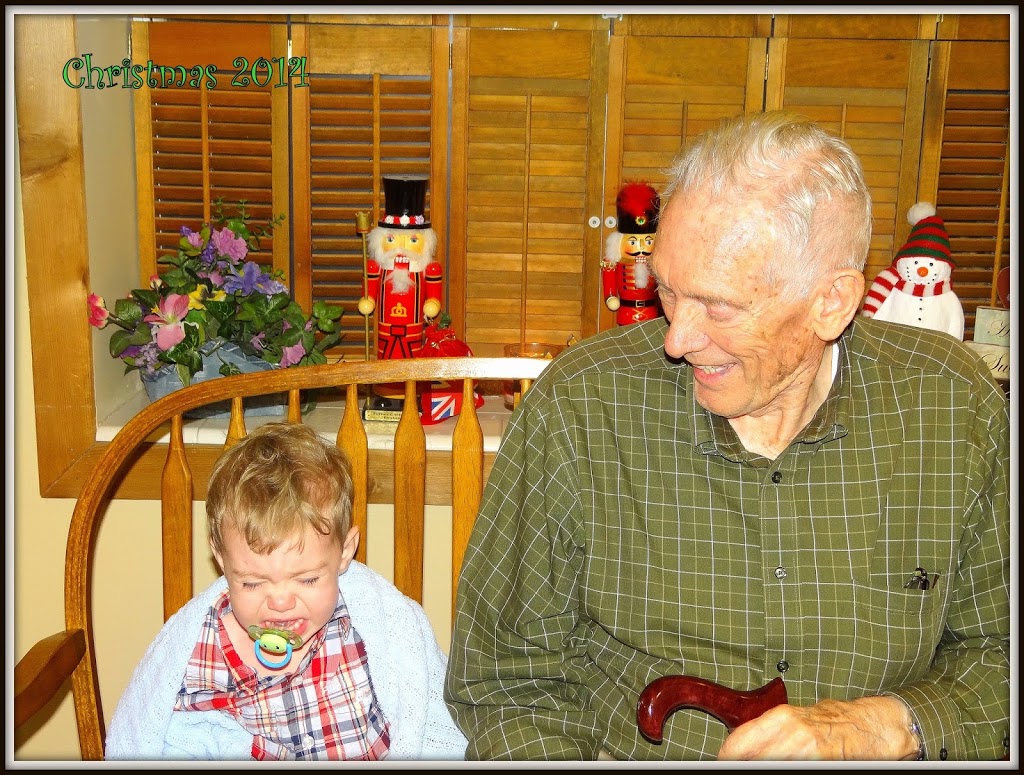 Great Grandpa and great grandson enjoying a photo op (NOT) … and there are TWO WHOLE generations in between! Someday this photo will be even more precious to me than it already is.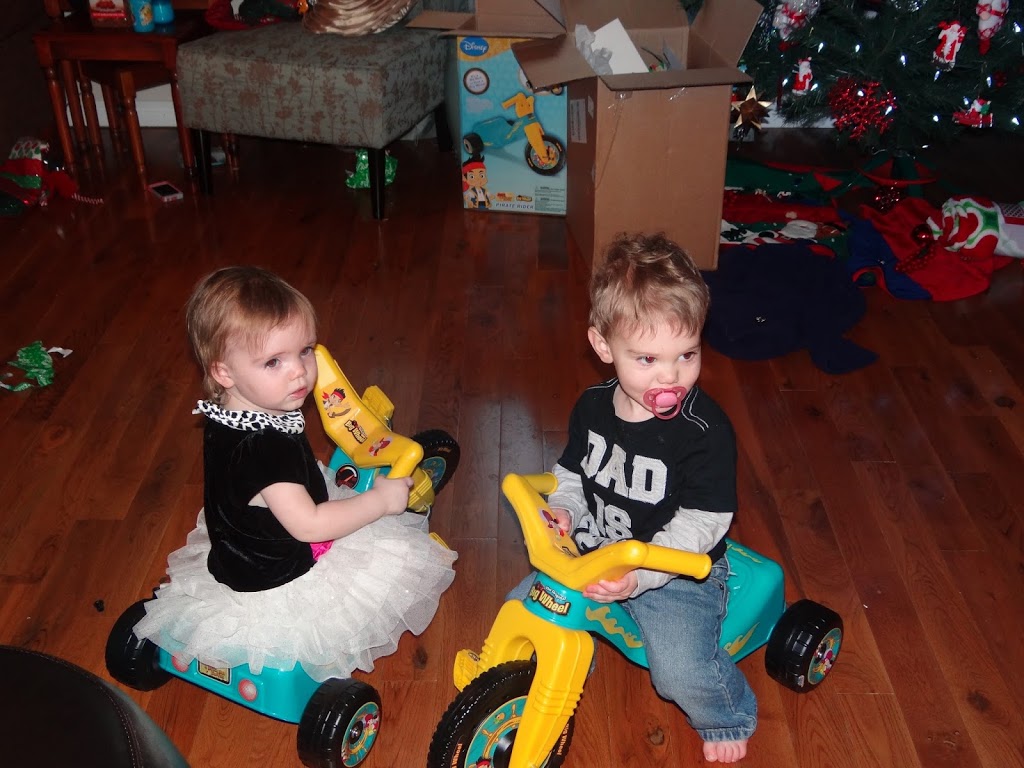 Cousins enjoying their matching bigwheel trikes. There was a third cousin missing this day. But someday they'll all be together again riding them.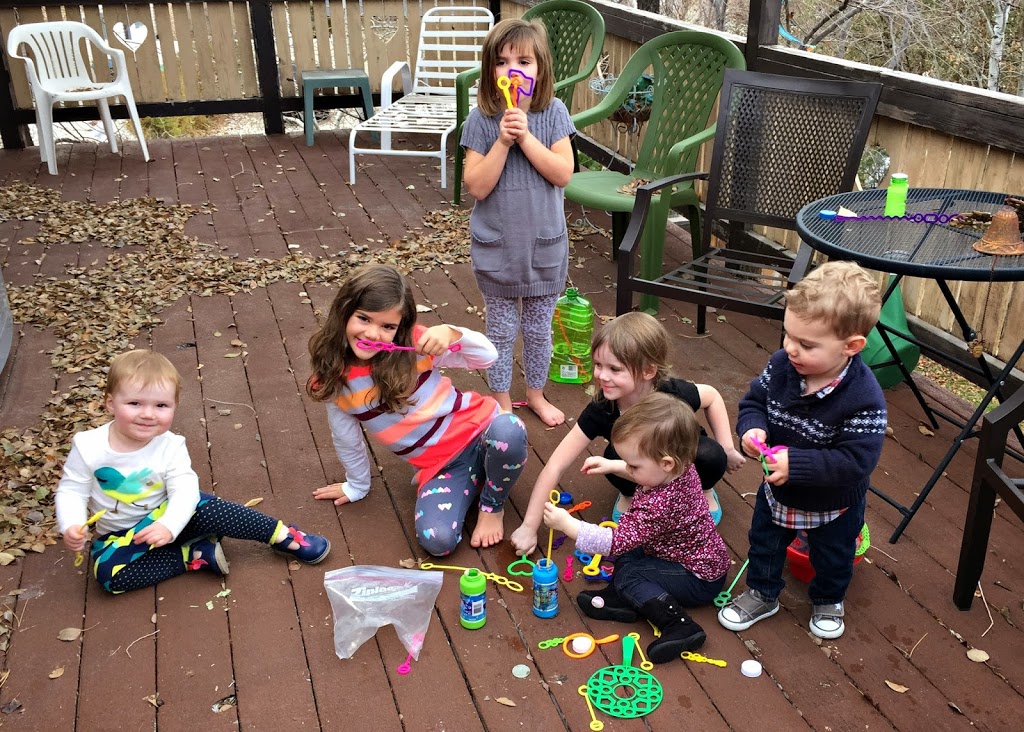 And these little gems, these little moments in time just make the little letdown of putting away Christmas, a little bit better to me. Things just look a little brighter after all. Here is all 6 of my grandkids blowing bubbles on the deck outside one day during the holidays.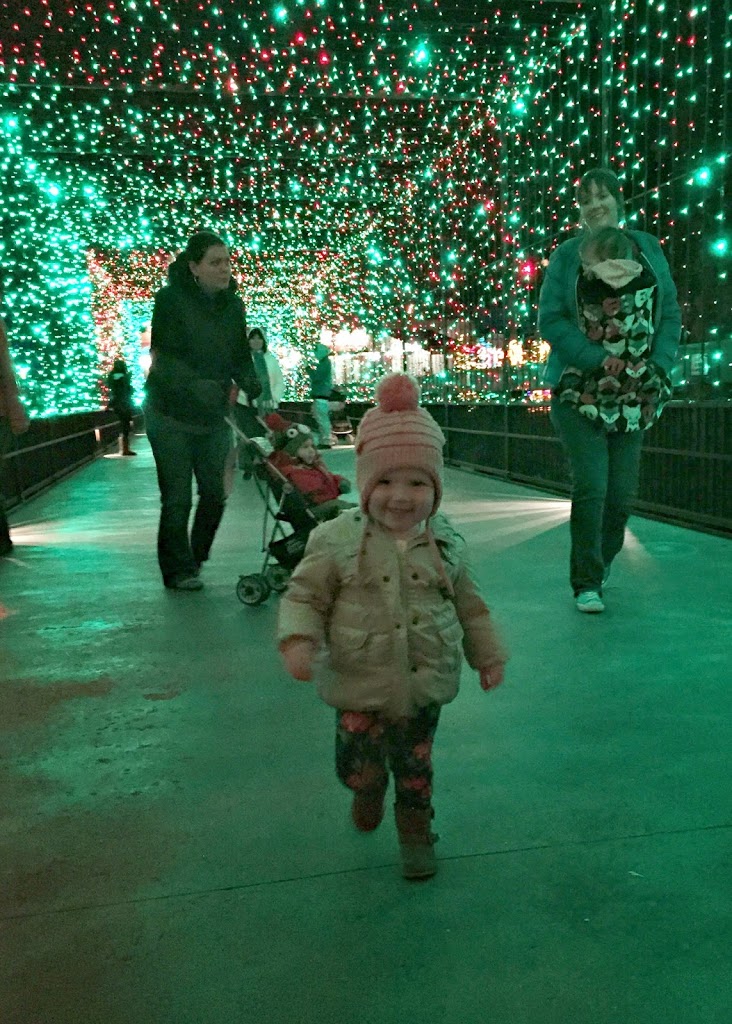 And I won't soon forget the Monday night we all went to Hogle Zoo for Zoolights with the entire family. It will be one of my favorite memories this holiday season. And those are the things I will think on, as I am taking down Christmas.

Putting up January….snowflakes and snowmen.

Not quite as cute as all the Christmas pizzaz……

But winter is here….with all that snow and so I will embrace it I guess. Snowmen make it more bearable….:D

Now the front entry doesn't look AS CUTE as it did previously….but it's filled with January finds…..snowflakes, snowmen and cute little grandbaby pictures in January frames.

Changing out all the red and green for blue and white……

And January placemats, snowmen, and snowflakes……

I wish you all a very happy New Year celebration. Think about all the fun you had this week and month. We are so lucky and blessed now, aren't we? Use an idea from former posts to use this Sunday if you'd like. HERE (I Hope They Call Me On a Mission) is a good one. And HERE (hula hoops) is another one. Happy New Year!

http://feeds.feedburner.com/PattiesPrimaryPlace