Last year I had my son a 30th birthday "Old Goat" party. We played pin the tail on the goat. It was fun. And it got me to thinking. How could you do this game in primary?
I made this goat poster to play Pin the Tail on the Old Goat….
What if you played, "PIN THE TAG ON THE MISSIONARY" instead?
Here I am playing the game….what a geek, I know what you are thinking…GEEK!
Well, you would be right there…..
The little girls loved the game……Meg confessed after
she won the game (4 year old) that she could see through the blindfold. So funny!
Old Goat bundt cake for Jeff's 30th Birthday Party….tee hee…..
We could do the same thing with Pin the Badge on the Missionary. On the back of each badge could be a song title. Then when kids come up to pick a badge, either have them answer a question, or just have the group sing the song and then let them close their eyes and put on the badge (or get a ski mask and have them put it over their head and eyes) and try to put it on Mike the Missionary.
MISSIONARY SONGS:
I Want To Be a Missionary Now
I Hope They Call Me on a Mission
Army of Helaman
This website mn crafts has a cute tutorial on how to do a "Pin the Badge on the Missionary" Game. Kids would LOVE this.

It is so CUTE!
Or reverse it and you could ask each child a question to get them to come up and pick a badge. A cute badge downloadable is below.
It works for Bobbi has some DARLING downloadable missionary tags and this cute printable to send home with the kids to help them

start being a missionary NOW! I love this!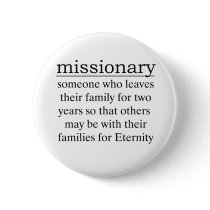 Missionaries are awesome peeps! I just love them!
Missionary Questions for the Primary Kiddos:
Talk about your favorite Church hymn/song.
Tell something you can do to help your testimony grow.
Give someone a sincere complement.
Who is your favorite person from the scriptures? Why?
Share what you could write in a BoM to give to a friend.
Tell why you appreciate Jesus Christ.
Name two ways you can set an example.
How could you be a friend to someone who seems to be left out?
Name a Church magazine/book you could share with a friend.
Repeat and/or explain an article of faith.
Name a Church activity you can invite a friend to.
Repeat and/or explain your favorite scripture.
Name two ways you can be kind to others.
Name a Church video you could share with a friend.
This was at my son's missionary homecoming in December a few years back. He is the one on the left, with arms around all his former companions who came to hear him speak. I love all of these boys. They were a Band of Brothers.
I Want to Be a Missionary Now!
I love missionaries. I remember going to pick up my son, Devin, from Armenia. He was an assistant to the president in the MTC and also in Armenia's mission office which included Georgia. It is near Iran and Turkey, not a mom's favorite place in the world. But he learned a little Russian, and Armenian and could understand a little Georgian language. I got to see what those missionaries feel for their investigators and converts. Devin was teaching some "Persians" which really means Iranians when we left. I saw their 1/2 size translated Books of Mormon (completely marked up). I thought to myself. "I'm looking at the future leadership of our church in Armenia….these Iranians who have read what they could of the mini bits of translation that they could get. I still am moved when I think of them studying the gospel in small, humble rooms in homes….being offered baked balls of flour rolled in sugar for cookies and water for refreshments.
Some of the many missionaries we housed for a year and a half in our home. The one holding our dog is Sister N. from Tonga. I could never really say her name all that well. (Neutupuivaha)
We had many missionary sisters and about 6 missionary elders over the time we housed them. It was always fun, exciting with news of the work, and meaningful to me and my hubs.
I would not trade the experience of seeing my son doing the work of the Lord, for anything, for any amount of money, time and all the myriad of details my husband and I had to both overcome in our jobs to get off work for 9 days. It was life changing for me to see the people of his mission and how he had been changed.
Devin with the missionaries who lived in our home….
Why was our dog Bruce always in our missionary pictures? I guess they loved our dog a lot. Except when he ate Elder Lufe's beef jerkey he had left on his bed….hehehe….He was from New Zealand (he is 2nd from the left). He was always so polite! You'll notice I"m holding my doggie's tennis ball and that's all he is caring about! lol
Here is a fun Missionary Craft for kids to make. The legs grow longer as the missionary "grown a foot or two" super cute! Primary kids would LOVE this for sharing time or to take home from Primary Music Time! Check it out HERE. This was originally in The Friend Magazine.


Many months later I was able to host a mission reunion at my house. 70 kids from all over came and packed into our home to hear their former mission president. There is really nothing like it on God's green earth. The spirit just oozes everywhere. Love is pouring out of everybody. I loved sitting and being a fly on the wall.
All the Armenian Missionaries in Dev's Armenian district in the MTC….Lots of them were from Utah.
Danny being his goofy self….
8 years ago we lost our 17 year old senior in high school in a car crash on a rainy October day. His name was Danny. I think of him serving the Lord too….on some kind of mission. Maybe helping all my relatives in some way who have all gone before. I feel him around me from time to time and I know he is about doing good things. And I have hope to someday see him again. Great HOPE!
My Danny (the youngest of my 4 kids) at his brother Jeff's wedding….
Me and my hubs became Ordinance Workers soon after Danny's death. It has helped us heal being in the temple each week. It's a good place to go if you need help on something life has thrown you that you feel you can't do on your own.
So….. Sing about missionaries, honor those missionaries of your wards. Keep the goal bright and shiny in the minds of Primary kids you have influence over. It changes lives all over the world, this thing we call being a missionary for the Lord. I'm a convert. I had 2 missionaries I love and remember too. Elder Whitchurch and Elder Thigpen. Wherever you are, thanks for everything. I hope I can be just like you when I grow up. 😀

http://feeds.feedburner.com/PattiesPrimaryPlace