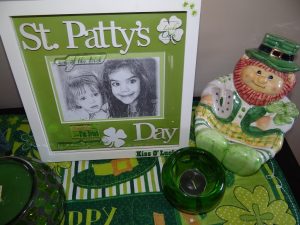 March Singing Time….St. Patrick's Day is coming up SOON!
This is one my favorite months of the year. My family were all IRISH! And my mom was an Irish Catholic. We REALLY celebrated St. Patrick's Day every year. I remember dinners where she would actually give us kids a bit of wine with 7 up to toast to some of her favorite SAINTS.
Those are happy memories of sitting in the formal dining room with my 5 siblings cracking jokes and eating yummy food. I love St. Patrick's DAY!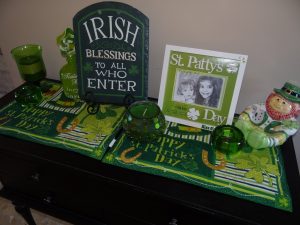 March Singing Time Ideas
I don't have very many decorations for it but I always do at least my entry table and my dining room table in honor of my mother and her love of St. Patrick's Day. I also decorate my classroom in Shamrocks, leprechauns and GREEN, glittery stuff and of course GOLD wrapped chocolates!
So in honor of the Saints all over the world who are do gooders for others I'd cut out a bunch of Shamrocks in Green and add some ROLO candies or Golden Hersheys's Kisses and write all the songs behind shamrocks.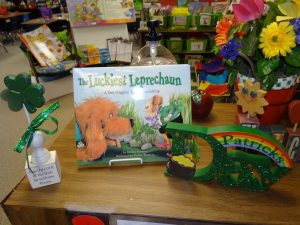 Use a few St. Patrick's Day decorations to have a LUCKY singing time.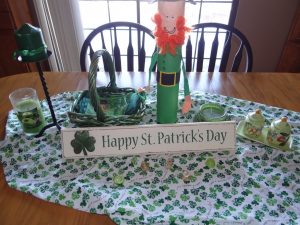 March Singing Time Ideas….. St. Patrick's Day Fun!
Then come up with some fun questions to ask and the correct answers get a piece of "gold" from your POT OF GOLD (a black container with gold wrapped candy inside). The kids will love it!
Use something like this or a black bowl with gold candy, or a black, plastic pot from the dollar store.
Another idea is to decorate a hat green and have the kids come up and pick a song title out of the green leprechaun's hat. That is always fun too. Here is a tutorial on making your own leprechaun hats from some tupperware type bowls from the dollar store. Check it out at
Canadian Living.com.
I might try these in my classroom! What fun they would be!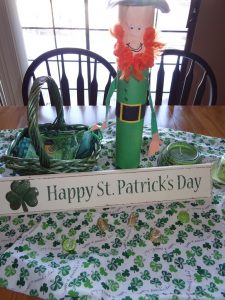 March Singing Time Ideas- We made these little leprechauns one year out of empty lamination tape rolls which are pretty heavy. They stood up nicely on our tables for a few days till we took them home.
My Irish Catholic mom used to call me Patrick for fun as a nickname. It was kinda weird because I had chopped off all my own hair and she had to take me to the barber to get a butch haircut to even it all out. So I wore dresses, had a mom calling me Patrick in the stores, and I had a boy haircut. Now enjoy that mental picture. haha. (I will NOT share a picture of how weird I looked either! No! )
But to you I wish the LUCK of the IRISH this March Singing Time! Happy St. Patrick's Day to all!
Patrick
http://feeds.feedburner.com/PattiesPrimaryPlace