This next week is my favorite holiday. I love Halloween more than any other time of year. I love all the candy, pumpkins and black and orange decor. I have a lot of decorations around my house; almost as many as Christmas!
October Singing Time in Primary is fun!
So it's fun to bring some in for Primary and put a piece of paper with the songs taped to the backs of some of my cute decorations.
Use some decorations from home!
Okay my FAVORITE HOLIDAY is this month! Yip Yip Hooray it's almost Halloween! I don't know why I've always loved it. Maybe it is the costumes and dressing up.
I've got gobs of them….
Maybe it is the black and orange and all the icons (pumpkins, cats, Frankie, skeletons etc.) But I'm a Halloween nut. I've got almost as many Halloween Boxes for decorating that I do for Christmas….yeah I know….it's an illness…..snicker….
Can you tell I love Hobby Lobby?
Oh yes….and The Dollar Store! I got these both for one dollar!
Linens from Kohls…I always love their table runners….
And we can't forget Taipan Trading? Oh no! Look at this cute plate I just picked up with a 25% off coupon!
Here's my front entry….
Side table….There's my little Marisa!
Coffee table is so creepy!
Another end table….
I know. It's an illness. But have fun with Halloween for Singing time!
Use some of these cute decs for Singing Time in Primary!
Kids would love a few light up pumpkins or skeletons to choose a song from!
So this month be sure to do some fun Halloween singing time! There are plenty of things you could do; Halloween Tic Tac Toe with songs….. I found a cute handmade Tic Tac Toe out of popsicle sticks and pom poms HERE at Busy Bee Crafts. You could make it for Primary and bring if home for your kids to play with. They'd LOVE that!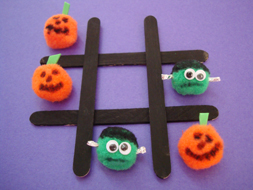 .Halloween choose a black or orange balloon and pop them to find the song we are singing……
Kids love to pop the balloons to find out what song to sing inside…..
Or just bring in some Halloween Decorations and put a song number on the back of each one. It is fun for the kids to see all your cute decs. I usually ask a question about the lesson before they can raise their hand to come up and choose. That way you are doing double duty; a recap of the lesson and some fun stuff too.
http://feeds.feedburner.com/PattiesPrimaryPlace